Have you ever experienced taking a bath facing to strangers? Have you ever taken a bath outside? If both or either of your answers are no, you might feel embarrassing about soaking in a public bathtub when a person next to you is an unfamiliar dude or girl. However, it is not really unusual for Japanese people to go to a public bath.
Traditionally, Japanese people love to go to hot springs, or onsen. This is true for not only humans. Even monkeys in Japan love an onsen!
For geographical reasons, there are thousands of onsen spots throughout the country. If you live in or come to Japan, you may want to visit at least one of the spots, but at the same time, you may have no idea about where to go. This article introduces things to know about Japanese onsen, focusing on,

1. Major Onsen Spots in Japan
Onsens are spread out throughout the country. Each onsen has different characteristics. Colors of onsen water in Japan can be white, brown, blue, and transparent, depending on locations. Let me pick up some of the major spots here.
Kusatsu Onsen (Gunma Prefecture), Gero Onsen (Gifu Prefecture), and Arima Onsen (Hyogo Prefecture) have been recognized as "3 Most Honorable Onsens in Japan" since the Edo era in the 1800s.
Kusatsu Onsen is probably the most famous onsen in the country. At the same time, it is known as one of the hottest onsens in Japan. Its original temperatures can be 90 degrees in Celsius (194 degrees in Fahrenheit) at most!
Gero Onsen is located approximately 100 km North-West from Nagoya. It has a view of beautiful nature of a streaming river, surrounded by huge mountains.
Arima Onsen is famous for its special brown-colored water. Arima is located 90 minute from Osaka by bus. It is definitely one of the biggest hot springs in the Kansai region, or Western Japan.
Arima Onsen is also recognized as "3 Oldest Onsens in Japan." The other two onsens here are Dogo Onsen (Ehime Prefecture) and Shirahama Onsen (Wakayama Prefecture.)

2. Manners at an Onsen in Japan
What are you expected to do at an onsen? Because it is a public space, there are some rules and manners when taking an onsen in Japan. Now, let's look at them.
Pour some water on yourself before taking a bath!
You are expected to be clean before taking a bath with others. Grab a tub, and pour some hot water on yourself. Usually, there is a kakeyu (pouring water) section in a public bath, and you are supposed to wash off sweat in the section.
Do not put your towel into water!
You may not put your personal stuff into a bathtub. This is for hygienic reasons. Even if you bring a brand new towel, you should put it aside when taking a bath at an onsen.
Also, you may not wear a bath towel or clothes in a bath tub! Onsens are not swimming pools. It may be embarrassing and weird to be naked next to strangers if it is your first time, but you will be okay once you experience it.
Do not wash your clothes or do laundry in the bath!
This seems obvious. Unfortunately, however, a few people sometimes actually do wash their clothes. Please do not do that!
Wipe throughout your body when returning to the dressing room.
Make sure to dry yourself before re-entering the dressing room. Everyone feels uncomfortable if your body is wet there!

3. Benefits to go to an Onsen in Japan
Why do so many people (and also those monkeys) love bathing at an onsen in Japan? There are particular styles at Japanese hot springs. One unique style would be roten-buro onsen. Roten-buro refers to an open-air bath, which is usually set outside a building. In Japan, many of onsen facilities have roten-buro. They are meant to be "natural gardens." Japanese people love to be relaxed taking this roten style onsens.
Here is another reason why so many Japanese people go to an onsen. Onsen has been said to be good for your health. For this reason, one interesting is that some people actually drink onsen water!! Yes, some onsen water is drinkable, having good minerals on your health and beauty!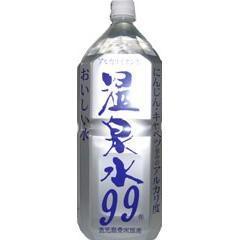 At some places, onsen water is bottled and sold!
Needless to say, soaking in hot onsen water can reduce your stress and make you relaxed. Some people just want to "rest" in a bathtub at an onsen. However, do not take a nap or sleep in a tub! Well, I have seen a middle-aged man seeping like a seal in a bathtub before. He must have been having a good time, but that was quite dangerous.
Also, minerals that are contained in onsen water have numerous good effects on your body. They are said to cure not only injuries like muscular pain and bruises but also diseases such as neuralgia, skin disease, visceral disease, respiratory disease, and cardiac disorder.
Overall, onsen has so many physical and mental effects that treat your body.
In addition, quite a few onsen facilities have a sauna along with spas. Some people like to go to an onsen to lose some weights by sweating in the sauna as well as taking a bath. Usually, there is cold water in a tub next to a sauna. I love the way of going back and forth between a sauna and cold water!
Onsen is where people communicate!
Planning to go to an onsen in Japan? Let's try it! Besides a bunch of benefits that I mentioned above, Onsen is a perfect place for communication! Once you find someone soaking in a tub, why don't you ask, "hey, where did you come from?" Then, a new conversation starts. If you like being alone, just enjoy superb warmness in hot water without saying anything. If you are soaking in a natural roten buro outside, then you will hear birds and insects twittering. It is totally up to you whether you enjoy communicating with people or voices of nature. There are so much fun and luxury at an onsen in Japan.
Related posts: